PrestoTex Gold Iridescent Dazzles at the Interior Design Show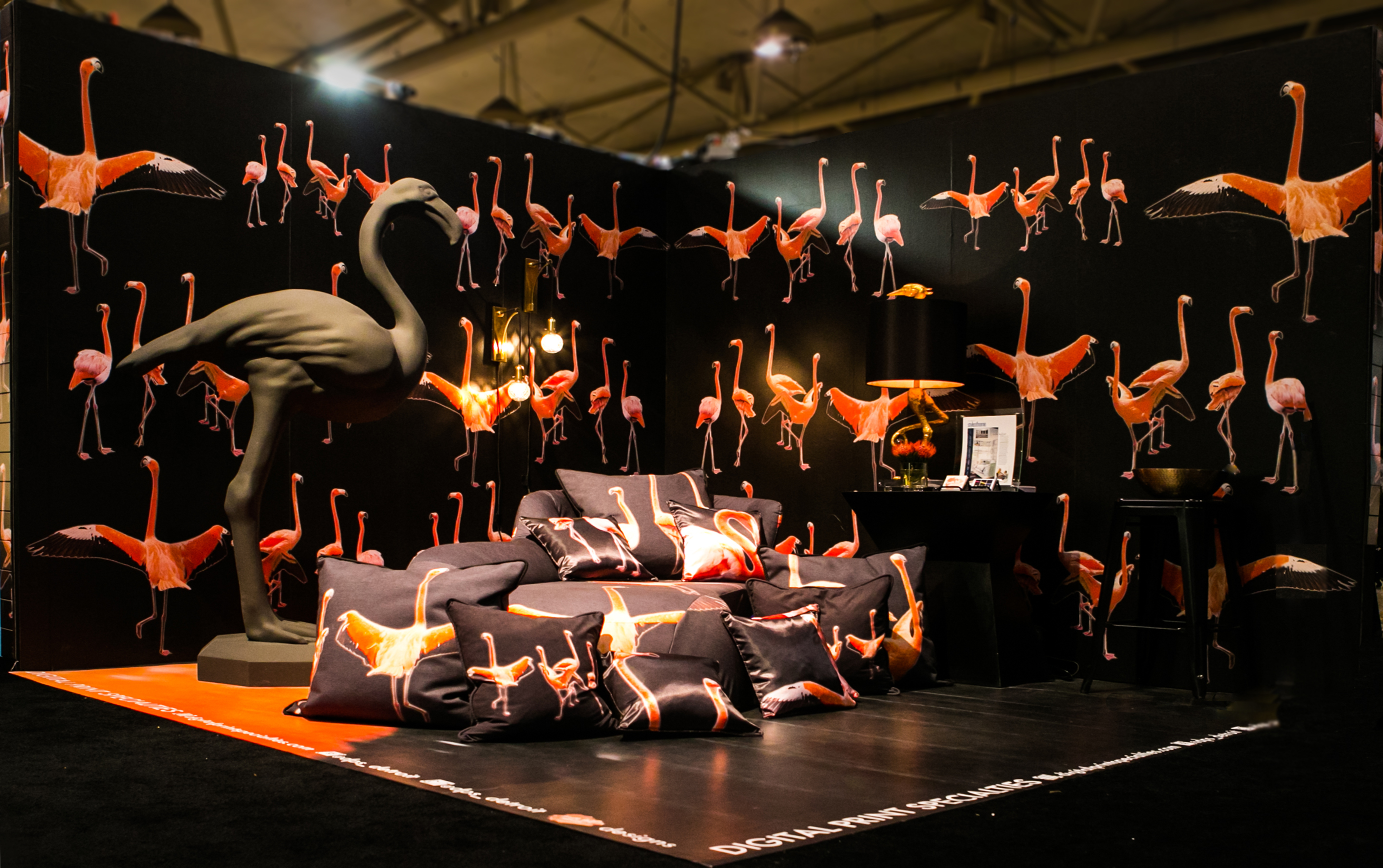 Digital Print Specialties also known as Banner Sign Company used Presto's PrestoTex Gold Iridescent as a tradeshow wall mural for their booth at the Interior Design Show in Toronto, Canada.
Nicole Paich, Co-owner and Vice President of Digital Print Specialties was searching for a removable wallcovering for her booth for the Interior Design Show. She had a couple of different removable wallcovering options but ultimately chose PrestoTex Gold Iridescentbecause of its unique texture and iridescent qualities that really made the graphic pop. "We wanted the iridescent qualities of the materials to look as though the flamingoes had a glow, separating nicely from the printed black background," says Nicole.
The 8' x 20' wall graphic was printed on the HP 360 latex printer. "The print quality is beautiful and the installation went well, it was very forgiving and easy to work with," says Nicole. The wall graphic was installed by using an overlap method and took 1 ½ hours to install. Nicole was happy with the finished product so much so that she will be adding PrestoTex Gold Iridescent to her product line to offer her customers, she says, "Designers were impressed, we'll be adding it to our product line." After the 4-day show, Nicole removed the PrestoTex Gold Iridescent without damaging the walls.
For more information on PrestoTex Gold Iridescent visit www.prestotape.com. To learn more about Digital Print Specialties, visit www.digitalprintspecialties.com.
Presto Tape is a completely integrated manufacturer of digitally printable wallcoverings, surface protection films and specialty tapes located in Bensalem, Pennsylvania.