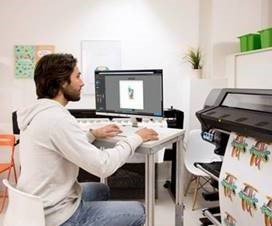 Using HP WallArt Suite and HP Signage Suite is simple, easy and free. If you are an Onyx or Caldera RIP user, you only need a compatible version and nothing else. For and updated list, please follow this link.
Native Onyx compatibility
In an effort to strengthen our relationship with HP customers, Onyx Graphics has added the HP WallArt permission free of charge to all ONYX products starting with their recent 12.2 release. HP customers who are running ONYX 12.x versions can contact ONYX Sales to upgrade their license key at sales@onyxgfx.com at no additional charge. If an HP customer is running an older version of ONYX products that didn't support HP WallArt functionality they will be asked to upgrade to the correct ONYX product version that supported this functionality but they will not be charged for HP WallArt functionality.
Caldera: simple PDF workflow
Simply use the PDF available for download from HP Applications Center in your Caldera RIP.
• No Specific license is required for this.
• Minimum RIP version V10.2 + APPE.
For the JDF workflow, there are two possibilities:
1. Regular Nexio License
2. HP WallArt/Applications Center Limited Nexio License
HP WallArt/Applications Center Limited Nexio License
HP's and B2CPrint partnership provides a path for integrating HP Applications Center into your website, creating an eCommerce solution tailored to your needs.
For more information and to access a demo site, please visit http://www.b2cprint.com/hpwallart