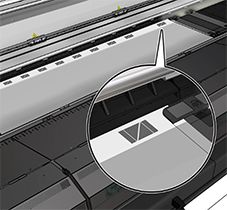 What is the Double-sided Day Night Kit?
From city-light posters to store signs, there is a wide range of outdoor applications that can be placed in lightboxes. This way, they can be effective regardless of the time of the day.
During the day, thanks to the sunlight, we are able to see them properly as frontlit posters. When night falls, the artificial light sources behind the posters are switched on, allowing them to capture our attention. This is a fantastic way of maximizing the impact of an advertising campaign or making a store more visible.
By printing on both sides of the media, the colors will look perfect under any light. If the light source comes from the front, the light will reflect on the media and the viewer will only see the ink placed on the front side. If the light source comes from the back, the viewer will observe the ink placed on both sides; the extra layer adding greater saturation.
The printer will automatically detect exactly where to print on side B, thanks to a specific sensor, and will compensate for deviations, skew or even bowing, resulting in amazing accuracy with less than 2mm of error at any point, regardless of the length or width of the job. Forget about manually adjusting side B…let the machine print it by itself without the operator even being there.