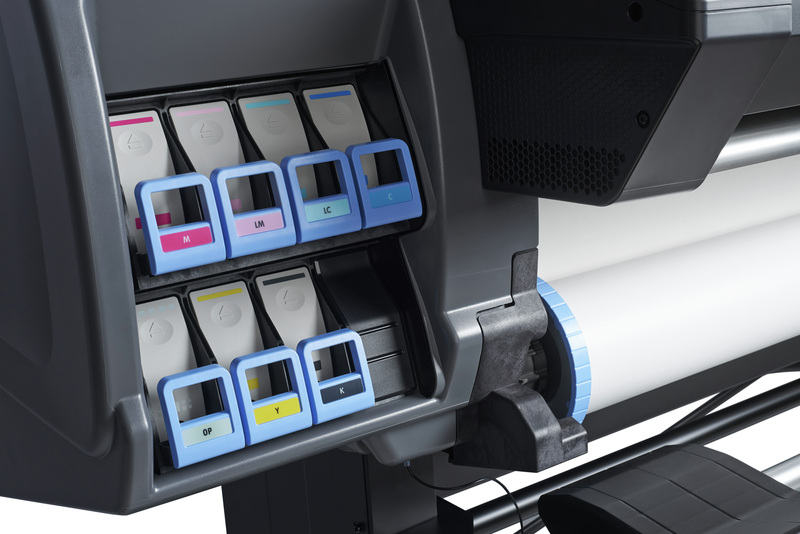 In some cases, users may see one ink color migrating to another color. This article provides instructions on how to fix these ink migration issues in the HP Latex 300 and 500 Printer Series.
When experiencing ink mixing, it is not necessary to replace the printhead. Please follow the steps described below instead.
Issue description
Users suffering from ink migration will see one ink color flowing into another color. As a result, ink mixing issues can cause image quality defects.
The root cause has been found to be ink flowing from color to color within the same printhead. Ink mixing is most noticeable between yellow and magenta colors, but can also be seen in other colors. In the example below, you can see magenta ink bleeding into the yellow channel.
Ink migration is more likely to happen after the printer hasn't been printing for an extended period of time (around 5 to 7 days). Maintenance routines, such as printhead cleaning or priming might worsen the issue.
This issue is isolated within the printhead and does not extend to any other ink component such as the ink tanks or pumps.
NOTE: If a color calibration is performed while the printhead is in this condition, that color calibration will need to be reset. Perform a new color calibration after the issue is fixed. If an ICC profile was created, that profile must be created too.
Ink migration troubleshooting
Follow these steps to troubleshoot ink migration issues:
1. To identify ink mixing issues, print a printhead diagnostic plot. To print this test, go to the printer's front panel and navigate to Settings > Image Quality > Clean Printheads > Print Test Plot. If the printer is suffering ink migration, you will be able to see the ink flowing from one color to the one next to it in this portion of the plot.
2. To recover the printhead, print a block of 90 x 30 cm or 36" x 12" in the color suffering ink migration. For instance, if you see magenta ink migrating to the yellow side of the plot, print a block of yellow.
3. After flushing the ink from the affected color, print a second Printhead Test Plot to validate the issue has been solved.
IMPORTANT: Only replace the printhead if you are not able to recover it after following the steps in this newsletter.
See attached a test plot that can be downloaded and printed.
For any additional help or clarification, please contact your support representative.