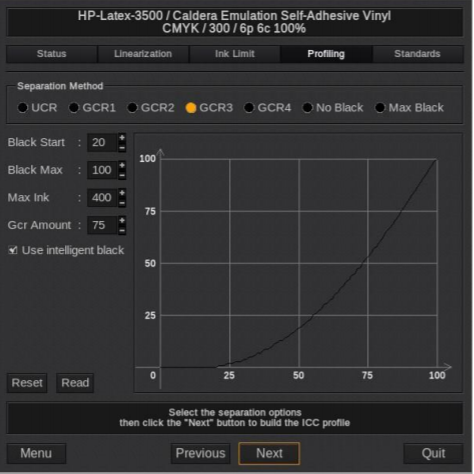 Proofing is the process of simulating the printing behavior of one printer, the target printer, on another printer, the proofer printer. To get good results in the proofing experience, there are four basic concepts to take into account:
A good ICC profile

should be created for each printer using the same physical device (spectrophotometer)
The printers should be

calibrated/linearized periodically or whenever any significant deviation in color reproduction is observed, and, of course, before any ICC profile is created
The

proofer gamut (the color space of the proofer printer) should

fully encompass the target gamut. This can be observed comparing both ICC profiles with an ICC profile viewer
For each different media AND print mode (number of passes and ink saturation) combination the same process should be followed.
This document describes the steps to follow to use a Latex 300 series as a color emulation for a Latex 3000 series (target) for a specific media and print mode combination on the target side.