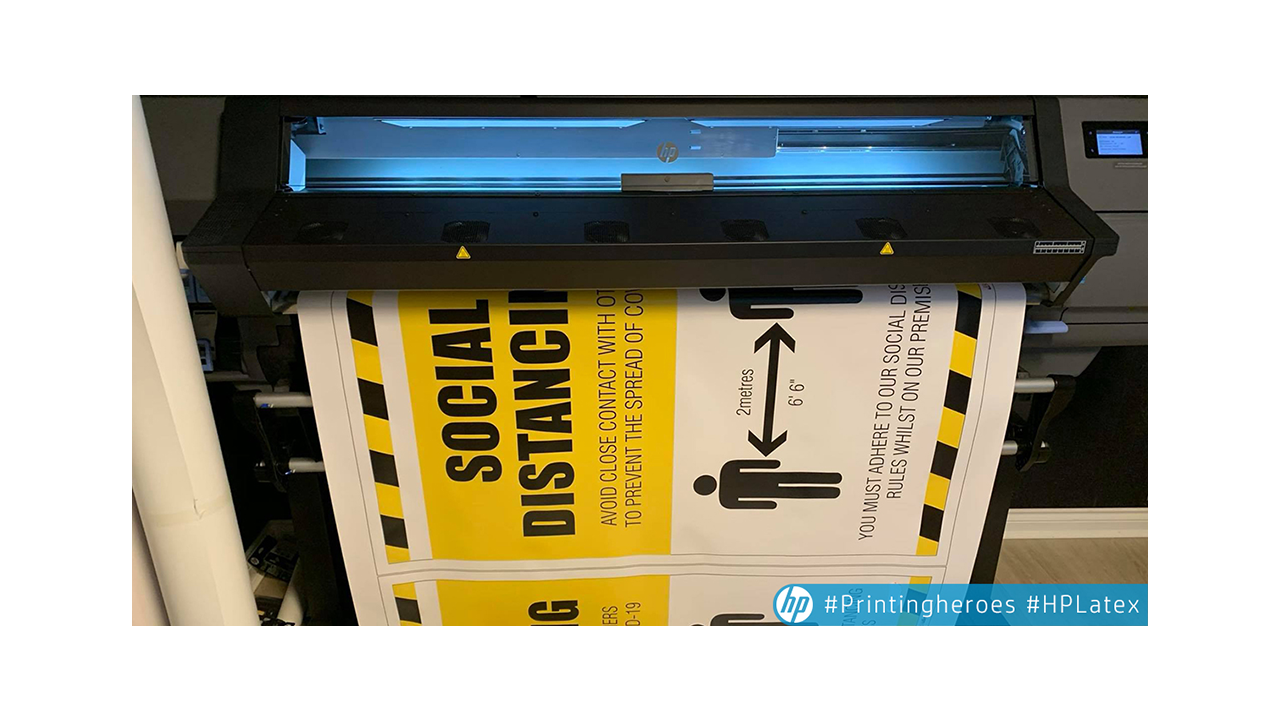 The owner of Moray-based Signworks says his work has gone from 'zero' to 'crazy' in the past few weeks with orders for temporary signage and banners relating to COVID-19, which he can turn around in hours using his HP Latex 315 wide format printer.
Cameron Philson, who established Signworks in 2008, explains that when crucial social distancing guidelines were introduced in March 2020 his typical orders - retail signage, banners, flat-cut letter signs, and magnetic panels - abruptly stopped. But as the situation changed, he began receiving orders for temporary graphics. Typically these have included posters guiding the public to stay 2 meters apart and banners thanking the NHS and key workers.
"I'm a small sign maker working from home and with the lockdown and zero jobs on the horizon things were looking bleak," he says. "I put a little post on social media promoting social distancing signs and things started to go crazy for me. It's a strange time we live in just now; I never thought I'd be producing multiple banners and temporary signage relating to COVID-19."
Customers range from small businesses to global corporations, who have a presence in Moray and want to use a local company for their signage. Many place orders for next-day delivery, which Signworks is able to achieve using its HP Latex 315 printer, installed in August 2019 by authorized HP reseller Papergraphics.
"Banners and posters printed on the HP Latex are instantly dry, so if my customers request next-day - or even same-day - delivery I can tell them 'yes'," says Cameron. "I come from an eco-solvent background where you'd have to wait 24 hours for prints to be finished, so compared to five years ago that's unbelievable."
As lockdown guidelines change and more people return to work, Cameron is now producing more permanent graphics.
"Customers can add their own logos to their signs too, to personalize them for their workplace."
HP says it is delighted that its technology is being used in the COVID-19 response. Colin Easton, Large Format Printing Channel Manager at HP UK, comments: "We are really pleased to see that our customers are supporting their communities during this uncertain and difficult period. HP Latex allows for flexibility and short turnaround times, so our customers can respond very quickly to new orders."
Cameron Philson is currently balancing working from home with looking after his three children, with the family combining their daily walk with delivering print orders. He predicts that the sign industry will go through a tough time over the forthcoming months and years, but improvements will come eventually.
"We've all had to adapt. But people will always need signs, banners and vehicle graphics," he says.
For more information on Signworks, please visit www.signworksmoray.com. For more information on HP Latex, please visit https://bit.ly/HPVirtualBooth.