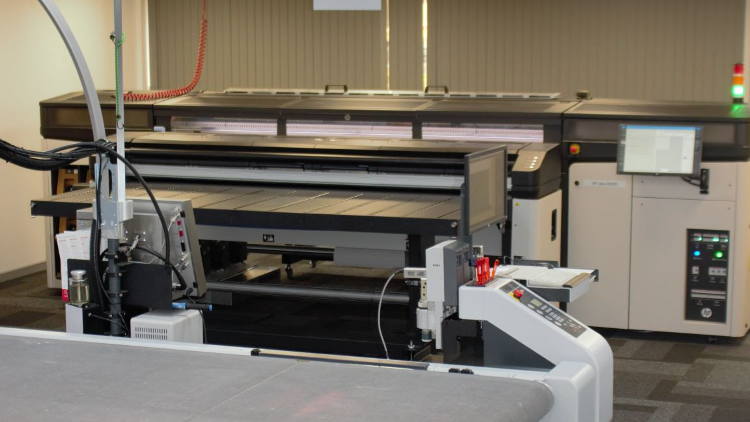 Graphics professionals in the UK will benefit from a local partnership between HP and Zünd UK, which sees an HP Latex R2000 installed in Zünd's demonstration suite.
Zünd UK is a globally respected manufacturer of highly accurate cutting equipment, with its G3, S3 and D3 digital cutting systems an integral part of design and production environments around the world. Its parent company, based in Switzerland, and leading print brand HP have forged an agreement that will showcase how the two technologies can work together to create the most efficient workflow possible.
"HP and Zünd have an obvious synergy, as prestigious, high-quality OEMs with shared customer profiles," explains Dean Ashworth, UK Sales and Marketing Manager, Zünd UK.
As part of the partnership, an HP Latex R2000 printer was installed in Zünd UK's demonstration centre in September 2019, alongside a selection of Zünd's digital cutting equipment. This allows potential end users to experience a high-end print and cut workflow in a professional setting, with representatives from both Zünd and HP providing information and advice about the systems on show during forthcoming events and tailored demonstrations. Located in St Albans, the Zünd UK showroom is also easily accessible for most of the UK.
The compatibility of the two brands is reflected in the technology itself: Zünd's digital cutting tables have a modular construction that enables users to essentially design the perfect machine configuration to meet their needs, while the hybrid nature of the HP Latex R2000 offers an exceptional degree of material versatility.
Dean Ashworth comments: "As a hybrid roll-fed and flatbed printer, the HP Latex R2000 is very flexible for different workflows and a diversity of media. Its role in the Zünd UK demonstration centre means visitors can see the full sequence from raw material to printing to finishing, for a number of different scenarios."
The HP Latex R2000 is a true hybrid for flexible and rigid printing, accommodating materials up to 2.5-metres wide and up to 5cm thick.
With high production speeds of between 45 and 100 square meters per hour, paired with quality print-output, the printer can easily create graphics on a wide range of roll-fed, rigid and flexible substrates without having to compromise on quality. It can be used for applications such as retail, outdoor signage, window graphics, events and exhibitions, decoration, car wrapping and more.
In addition to forming part of an efficient demonstration workflow, the new R2000 also enables Zünd UK to bring printing work in-house. For instance, its first job was printing the exhibition boards for Zünd's stand for The Print Show (September 17th to 19th).
"Zünd technicians are experts in cutting systems rather than printing and their feedback on the HP R2000 is very good - it's a very intuitive, a truly plug-and-play solution that is really compatible for the industries we work in," says Dean.
Phil Oakley, Regional Business Manager - Large Format Printing, HP Graphics Solutions Business, concludes: "For over 80 years HP's DNA has been in collaboration and this more formalized relationship with Zünd UK will benefit both our customers and reselling partners.
"HP and Zünd UK are keen to showcase how the solutions can work in tandem, as well as being outstanding in their own right. By combining two great brands and their technology we can demonstrate a seamless workflow."
Source article: https://www.largeformatreview.com/hardware/industrial-print/zuend-uk-add-hp-latex-r2000-to-demo-print-and-finish-workflow