Take advantage of the wider range of media Certified under the HP Latex Media Certification Program.
Do you know what the HP Latex Media Certification Program is?
The HP Media Certification Program is a program set up to evaluate media compatibility/performance with HP Latex printers.
The HP Media Certification is designed to connect HP Latex customers with tested and Certified media.
You can find a wide range of substrate for your artwork. Every HP Latex print is an opportunity to grow your business.
Where can you find the Certified profile for the media?
All the Certified profiles are available at the HP Media Solutions locator: www.hp.com/go/mediasolutionslocator
Go to the filter function on the Media Solutions Locator page (top-right side).
You will be able to identify Certified media in the "classification" filter option.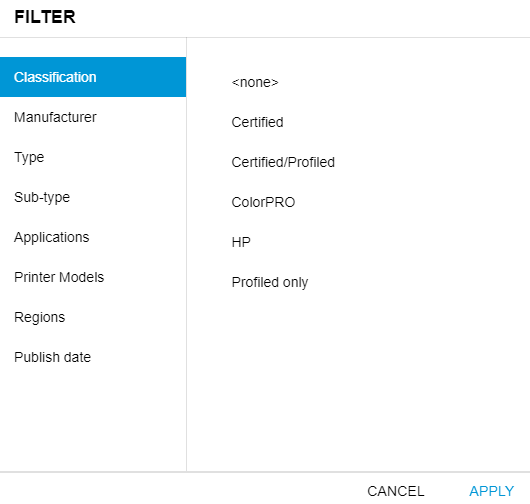 Even if the main table reads "Certified," you should click the "View" link to see if that exact media is certified for your printer.
This tool is also found on HP Latex 300 and 500 series printers through the Front panel and on the 1500/3000 series via the IPS.
How can I tell if a media is Certified for HP Latex Inks?
It is very easy: look for the following logo on all the HP Marketing assets, tradeshows, events, but also in the portfolio and website of your media manufacturer: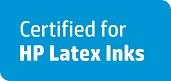 What if you want to find a printing application?
You can discover the wide range of applications that HP has to offer!
Go to the Media Solutions Locator www.hp.com/go/mediasolutionslocator and filter by Application to expand your business.
What is the difference between a 'Certified' and 'Profile only' media?
When we evaluate a substrate, we test the "General Image Quality," "Printer-Media Interaction" and the "Image Handability" of each media:
If it is a "Certified" profile, this means that that specific media passed all the Certification tests and achieves the expected threshold.
If it is a "Profile Only" media, this means that only basic performance testing has been passed.
Keep in touch
Don't miss the opportunity to have exceptional media versatility. If you have further comments or questions, contact us: hplatex_mediaprogram@hp.com