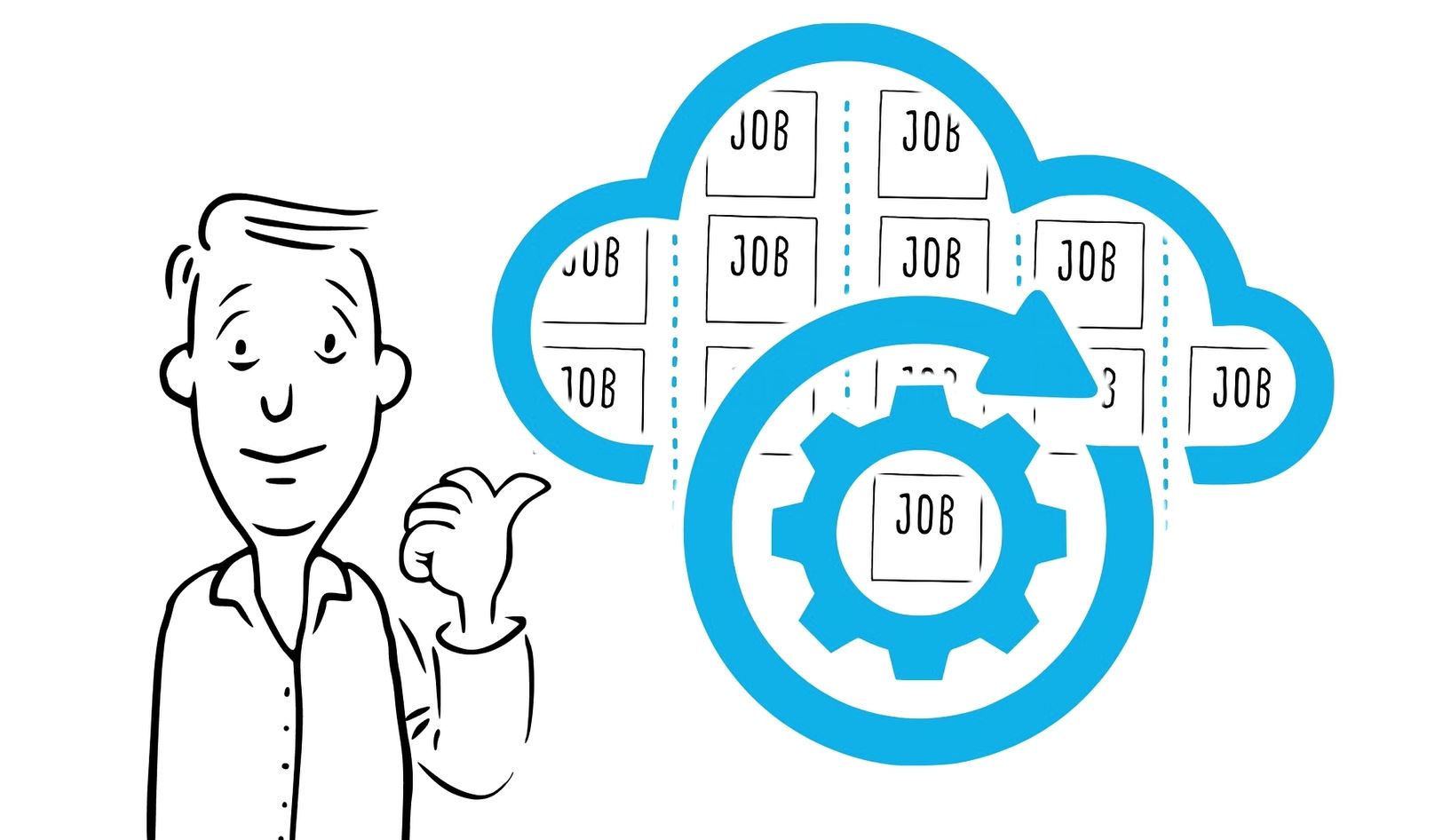 Signing up is the first step to enjoy the benefits of the completely new HP PrintOS, your cloud-based print production operating system. Improve your productivity, increase your profits, and grow your Large Format printing business, all in just 3 easy steps!

Signing up is fast, free, and as easy as it gets.
So why wait to get more out of your presses and printers? Here's how.
Before you begin, you'll need to add a Large Format Printer to PrintOS in order to speed up the sign-up process.
Head over now to "How to add a Device to HP PrintOS"!
Once you've added your first printer using your mobile device, head over to Step 1.
STEP 1: Sign up for a PrintOS account
First things first, you'll have to create a PrintOS account for your company. Every organization can have an unlimited number of users, sites, and printers.
You will now see the Sign-Up page for PrintOS on your mobile device's screen.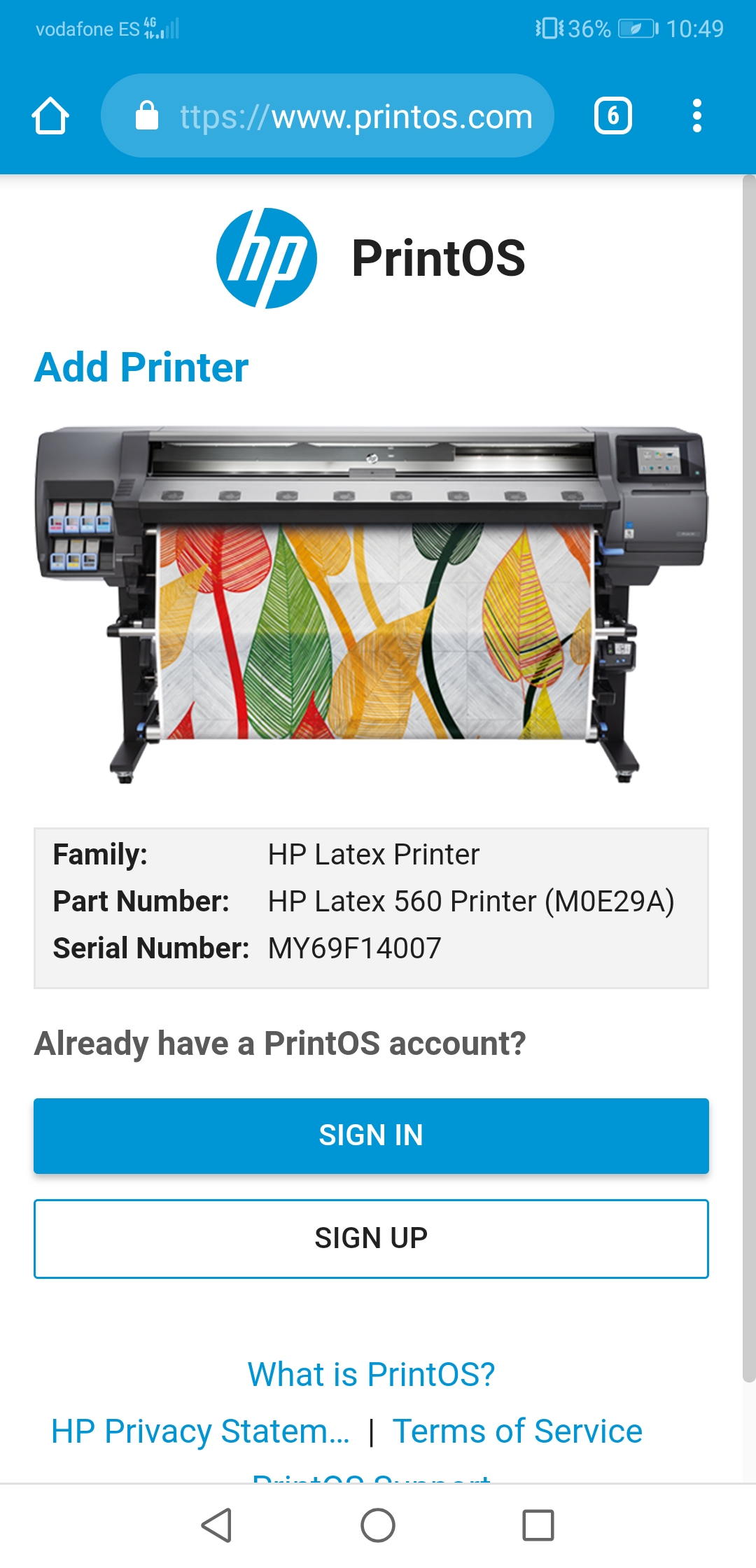 Notice that by previously adding your printer, you can now see on your screen an image of your printer model, as well as your printer's Family, Part Number, and Serial Number.
Click "Sign Up"
You'll now sign up your company to PrintOS and will become the Administrator of this organization. This allows you to invite more users, define additional sites, and add more devices to PrintOS.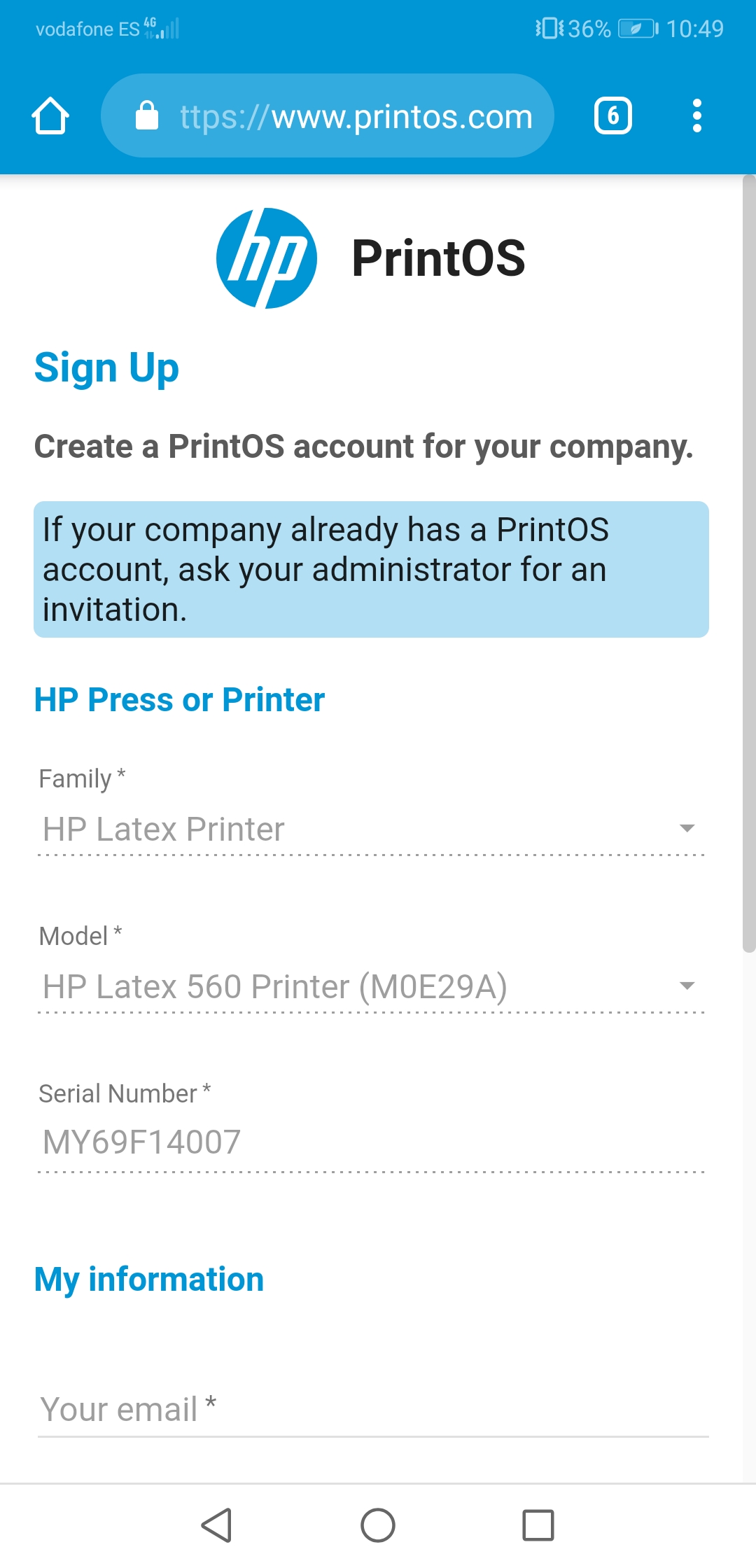 Enter the required details in the following sections:
HP Press or Printer – all information prepopulated for you
My Information – enter your email and your first and last name
Click "Submit" and you'll now be on your way to Step 2.
STEP 2: Create your PrintOS account
In order to enter PrintOS as a specific user, you´ll first need to create an HP Account.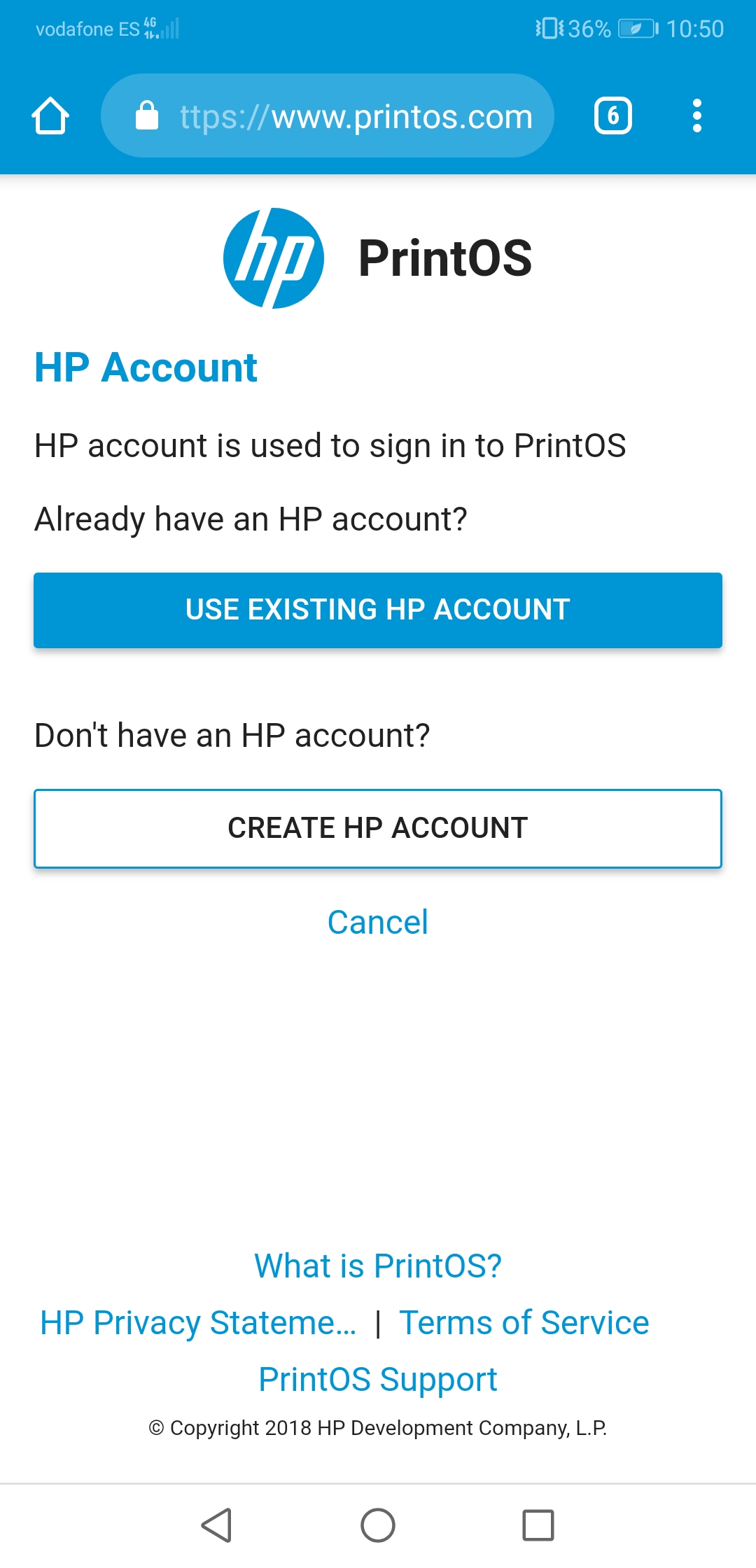 Click "Create HP Account"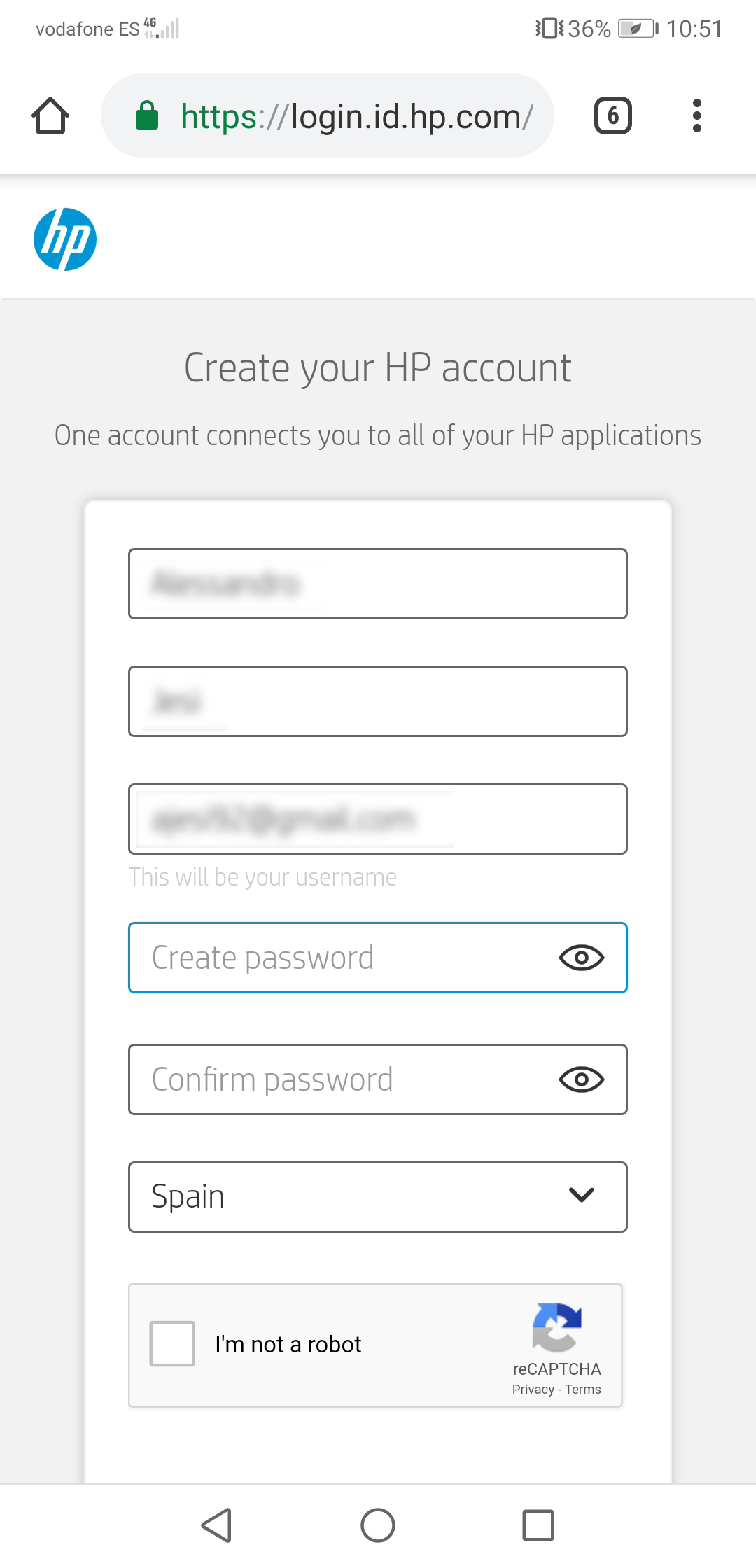 Notice that the first details have been pre-populated for you from Step 1.
From now on, your email will become your username in PrintOS. Enter your desired password, select your country and click "Sign Up". You will then receive an email from PrintOS with a verification code to validate your identity. Please check your SPAM box in case you don't receive this email shortly.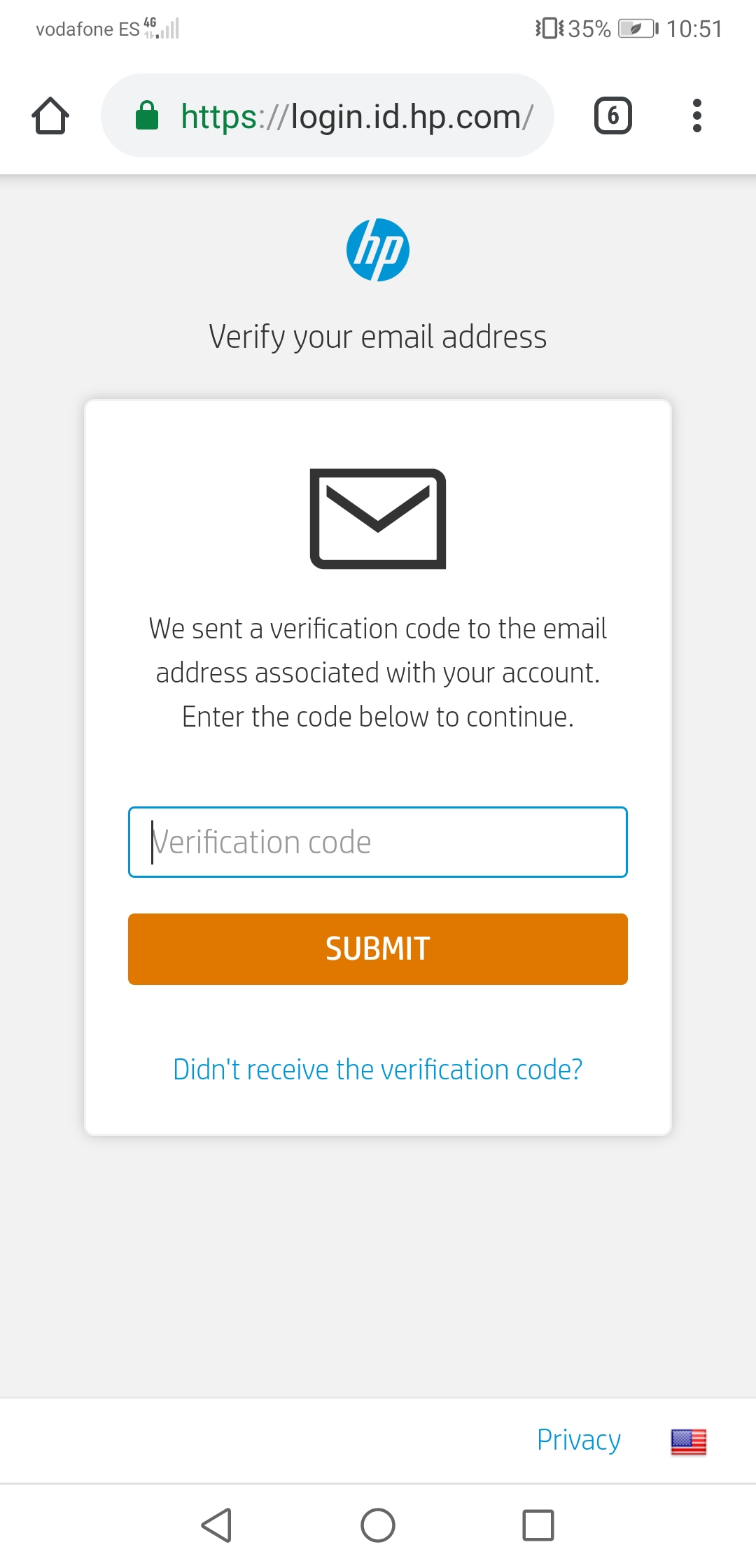 Enter the code and click "Submit"
You'll now be redirected to the "Create Account" page of PrintOS.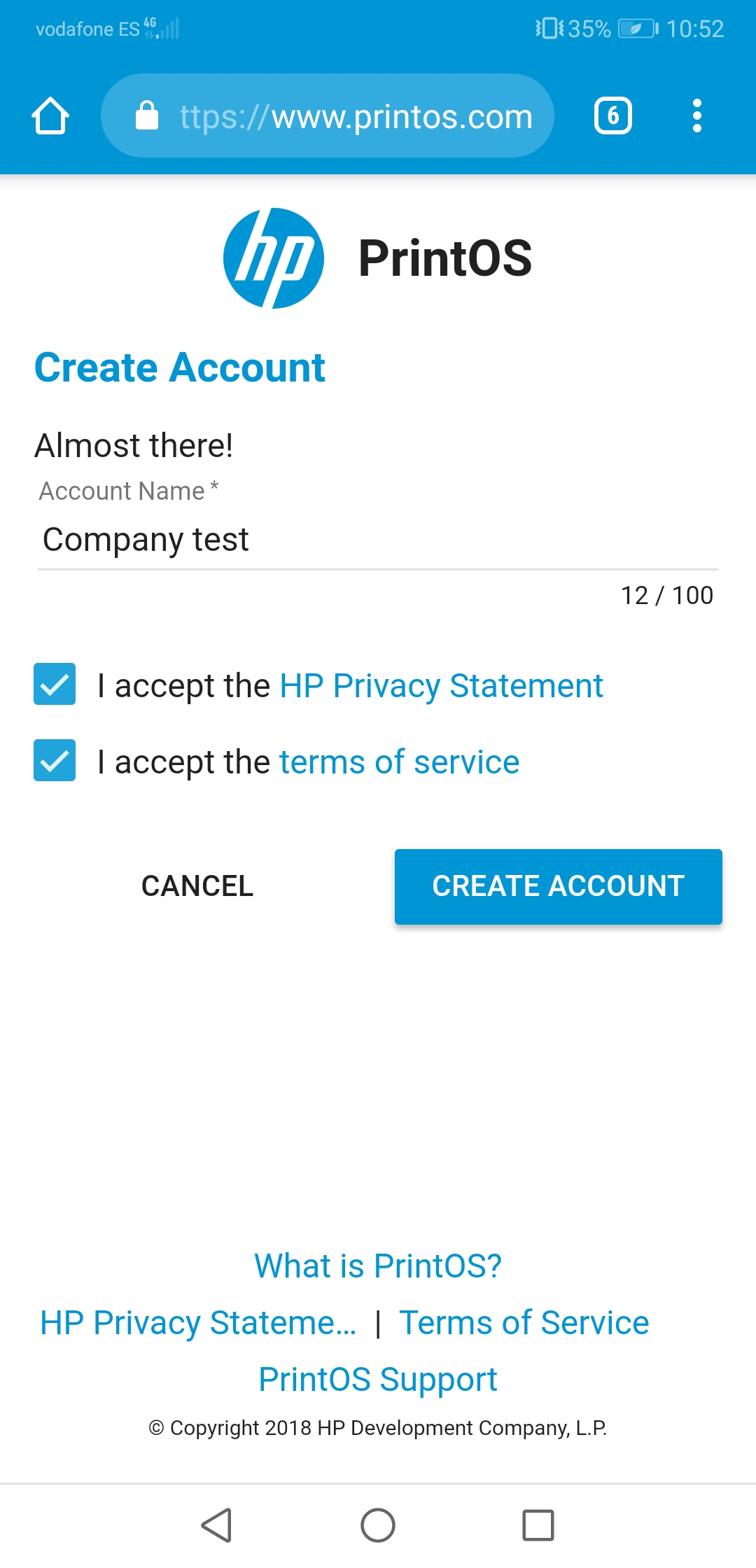 Simply enter your company's name under "Account Name", accept the "HP Privacy Statements" and "Terms of Service", and click "Create Account".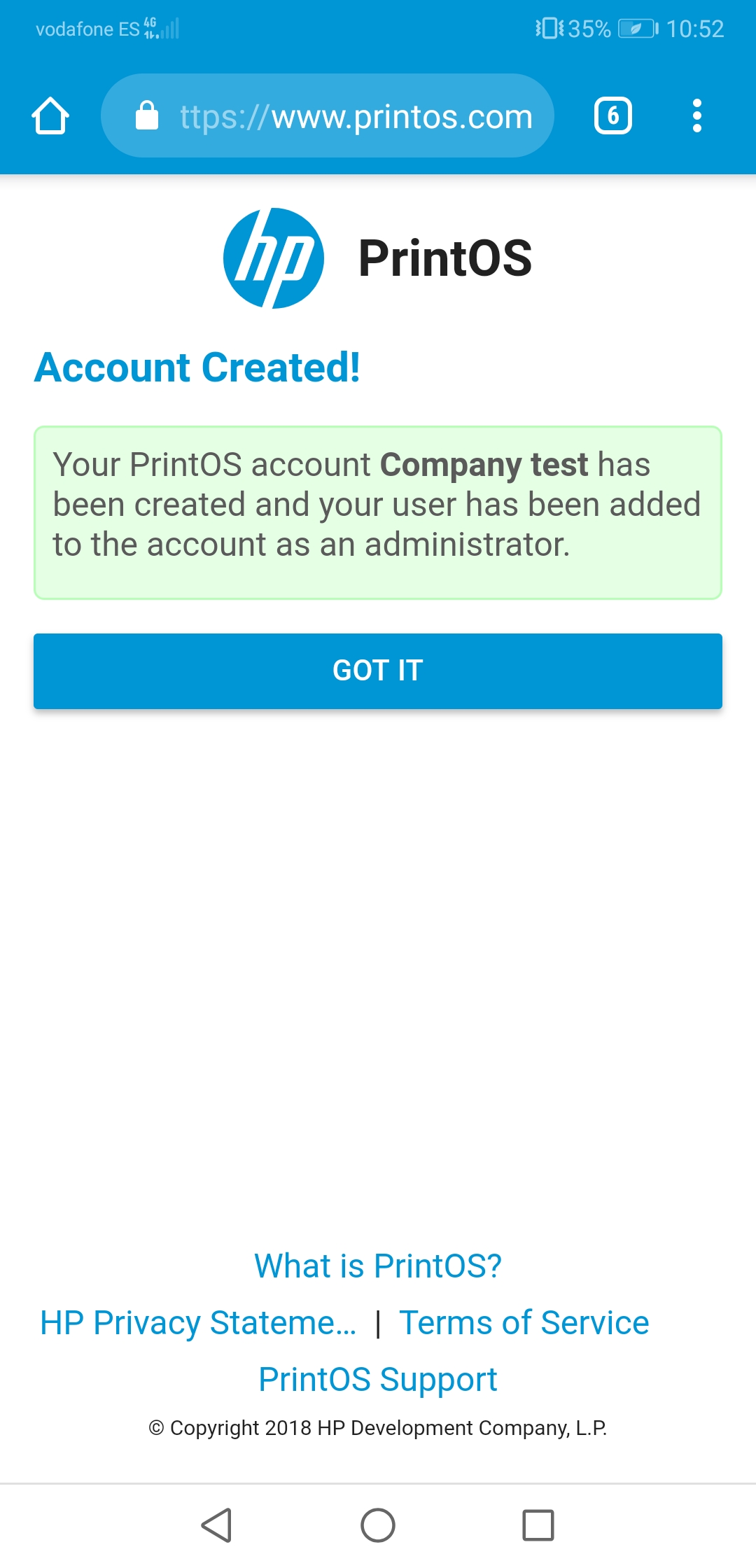 You'll now see a confirmation screen that your PrintOS account has been created. You're almost there! Click on Got it to head to the final step!
STEP 3: Setting up your PrintOS account:
You´ll be redirected to the "Getting Started" section in PrintOS' Home. Setting up your account is a very important process to complete in order to enjoy all the benefits that PrintOS has to offer, such as obtaining accurate report data and for your HP support & resellers to provide the tailored support you need.

Good news! Having previously added a printer, this will be done in no time.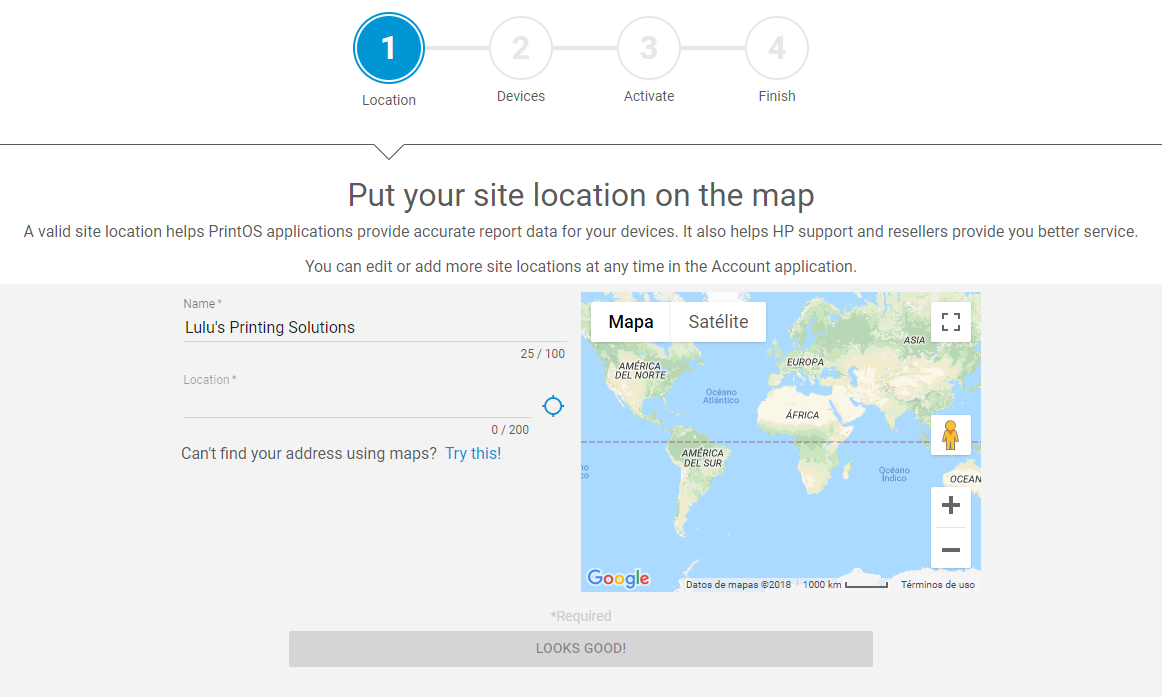 Enter the following:
Name – information prepopulated for you, this will be your account name from now on
Location – click on the blue locator icon to locate yourself automatically or manually enter your work address.
You'll be able to edit or add more site locations at your convenience in the PrintOS "Account" section. Alternatively, if your address cannot be found automatically, you can manually enter your full address details by clicking on Try This!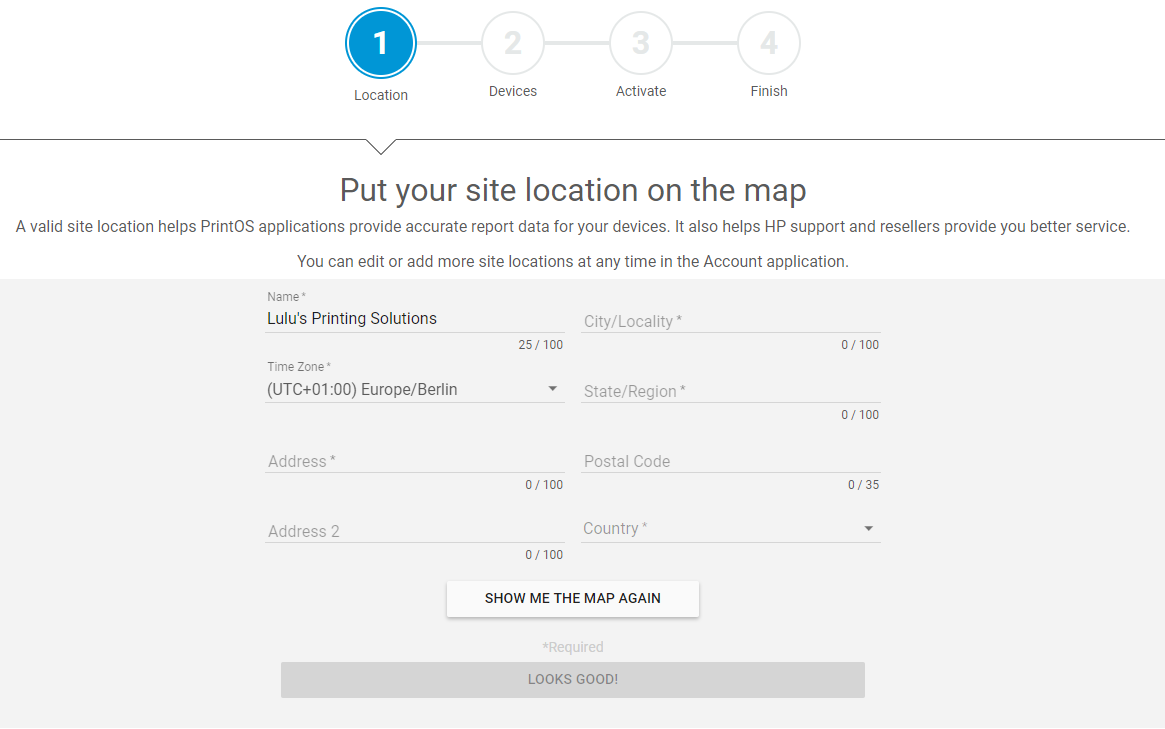 Enter or select the following information:
Name – information prepopulated for you
Time Zone – select your time zone
Address – enter your company's work address
City/Locality – enter your company's city/locality
State/Region – enter your company's state/region
Postal Code – enter your company's postal code
Country – select your company's country of residence
If instead, you prefer to go back to the Map View, just click on "Show me the Map Again".
All set? Click "Looks Good!". By already adding your printer to PrintOS, all the relevant device information has been pre-populated for you in the "Add your Devices" page.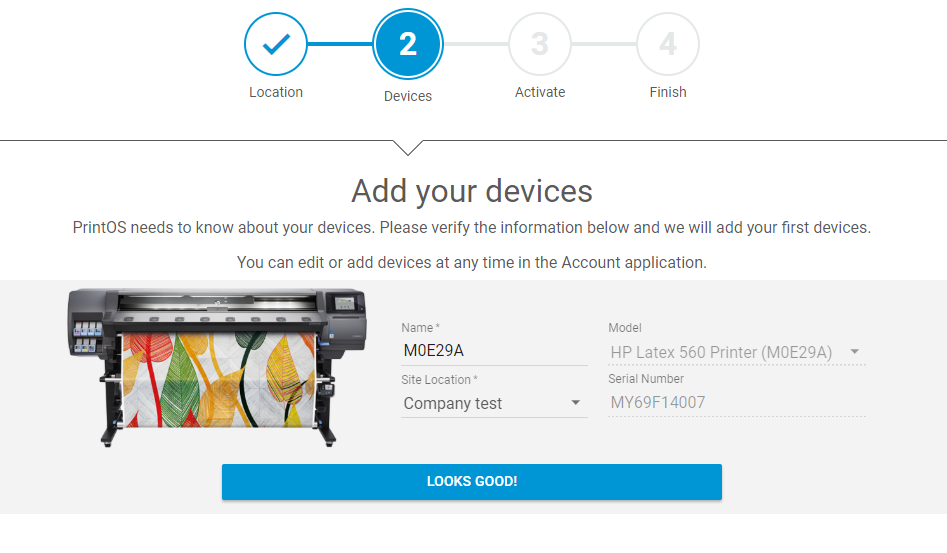 All you need to do here is to verify that the information shown is correct, click on "Looks Good!" and… Voilà!
Your PrintOS account has been successfully created!
END:
Regardless of how you create your HP account, we greatly advise you to connect it to your HP Channel Partner's PrintOS account, so that they can give you and your printers the best possible support.
It's as simple as that!
It's fast and easy to sign up to PrintOS.
If you have any questions, contact either your HP Channel Partner or HP PrintOS Support.
Enjoy HP PrintOS!