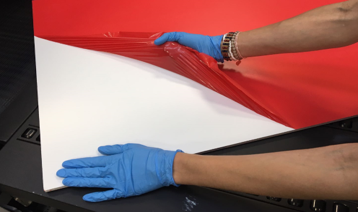 Maintain the substrates
Keep substrates in their sealed wrapping material while they are in storage, and store rolls vertically to avoid the migration of plasticizers in some materials.
Move substrates from the storage area to the print production area at least 24 hours before use, so that they can adapt to its temperature and humidity.
General tips
Handle unprinted and printed substrates with care, and preferably with cotton gloves, to avoid fingerprints. fingerprints. fingerprints. For rigid sheets or heavy rolls, use a forklift, and two people wearing security shoes.
Before loading any substrate:
● Check that temperature and humidity in the room are within the recommended ranges for the printer.
● Wear gloves when handling substrate, to avoid transferrring fingerprints fingerprints fingerprints and oils to the print surface.
● Check that neither the substrate nor the core of a roll are bent or deformed, which may cause the substrate to jam in the printer.
● If the substrate has been stored in a place not offering the recommended environmental conditions, allow some time for it to adapt to the temperature and humidity of the printer's environment.
● Check which is the correct side for printing. In the case of a roll, read the label inside the core or the note inserted into the package.
● In the case of a roll, check that the substrate is correctly attached to the input core. Otherwise, the Internal Print Server will report an error.
● Before loading a flexible flexible substrate, check its thickness and respond as follows:
– Up to 0.4 mm (0.016 in): Print normally.
– 0.4 to 1 mm (0.016 to 0.039 in): Raise the carriage beam to a custom position.
The standard edge holders are designed to work with flexible flexible substrates up to 0.5 mm (0.020 in) thick.
– More than 1 mm (0.039 in): Load as a sheet of rigid substrate.
The printer automatically checks the thickness of rigid substrates after loading.
After you have loaded any substrate:
● If you intend to use substrate edge holders, do not use edge holders from another printer, use only the edge holders that came with your printer.
● Check the correct carriage beam position for printing: customized position for thick substrates, printing position for others.
● Check that you are using the correct substrate preset in the Internal Print Server and the correct ICC profile profile profileprofile and other settings in the RIP.
● HP substrates are optimized to provide the best out-of-the-box printing experience with your printer.
● Use the Internal Print Server to check that any calibrations appropriate for your substrate have been done: printhead alignment, color calibration.
You can find further information on the Web:
● The specifications, specifications, specifications, finishing, finishing, processing, and warranty information for each individual HP substrate are available from http://www.globalBMG.com/hp/signagemedia and http://www.globalBMG.com/hp/HPMediaWarranties.
● HP Image Permanence information is available from http://www.globalBMG.com/hp/printpermanence.
● HP offers to recycle some substrates through the HP Take-Back Program, such as HP HDPE Reinforced Banner, HP Light Textile Display Banner, HP Heavy Textile Banner, HP Everyday Matte Polypropylene, 3-in Core, and HP DuPont Tyvek Banner. Recycling opportunities for these products may not exist in all areas.
You should consult local recycling resources about recycling these products. For recycling in the USA, see the HP recycling services site, http://www.hp.com/go/recycleLFmedia/.
HP offers to recycle some other substrates through the standard paper recycling process, such as HP White Satin Poster Paper, HP Photo-realistic Poster Paper, HP Coated Paper (3-in core), HP Universal Coated Paper (3-in core), HP Universal Heavyweight Coated Paper (3-in core), HP Heavyweight Coated Paper (3-in core), and HP Super Heavyweight Plus Matte Paper (3-in core).